Every morning for the past week I have awakened with this question…"What is happening to my country?!"
It has not been perfect, and yes, there have been issues that I believe need to be corrected. But suddenly I feel like I've been transported to another, extremely unfamiliar place–one that has the same language, places, forms of government that I have come to know, but that somehow is off kilter.
And I am just sick.
I sp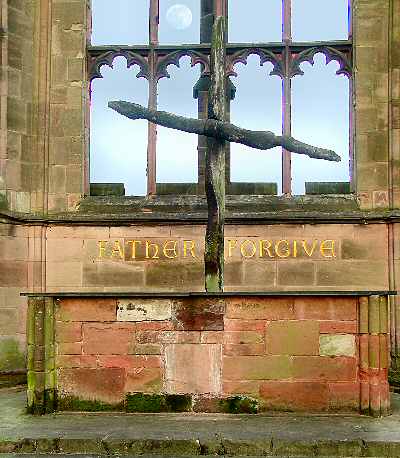 ent some of my younger years in a country that had been devastated by the second world war. One of the places we visited–and that had a powerful impact on me–was Coventry Cathedral, a beautiful building that had been bombed out. But at the front of the ruined building was an altar with a cross…and a prayer: "Father, forgive."
Forgive our inhumanity to each other…our fear of "the other"…our desire for dominance…there were so many things to pray forgiveness for.
And as a world, we swore we would never let anything like that happen again.
But we did. In Bosnia-Herzegovina…Rwanda…Cambodia…
And again we said, we would never let it happen. We had learned our lessons.
But we haven't…and I'm fearful that we're taking the same road…again.
How did those countries get to that point? There are ten steps on the road to genocide. They're not inevitable; the process can be stopped…but the further a society goes down the road, the more difficult it is. Here are the steps:
Classification – separating people into "us and them" by various categories (ethnicity, race, religion)
Symbolization – giving names or other symbols to the classifications
Discrimination – using law, custom, and political power to deny the rights of other groups
Dehumanization – equating members of a specific group with animals, verman, insects, diseases…using hate language against the group
Organization
Polarization – driving the groups apart, again by using hate language
Preparation – often done using euphemisms to talk about what is being done
Persecution
Extermination
Denial
As I watch the news, I'm afraid we're heading down that road…and I'm scared. Not so much for myself, but for friends…and for my children and grandchildren. What kind of world are we creating for them?